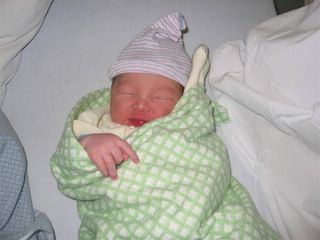 Congratulations to my cousin Rob and his wife Alissa on their new baby boy, Lucas Alexander. He was 21" and 7 lbs 4 oz. Rob says,
Both Mom and Baby are doing fine. Alissa and I got to the hospital at about 8:00PM on Saturday with Alissa looking forward to using lot of drugs this time for the birth (our first baby was drug free and Alissa was not up for going through that again!). Much to our dismay, Alissa was too far along in labor to receive any drugs and...well...uhhh...Lucas is here and Alissa is the best!
Lucas was born on Saturday, February 5, 2005 at 9:02PM in Merced, CA. Irma said he looks like Alissa.